Convergent Futures: 2022 Adweek Global Theme
2022 will involve building new systems and refining the products and tools that drive consumer engagement – read on Adweek's Global Theme.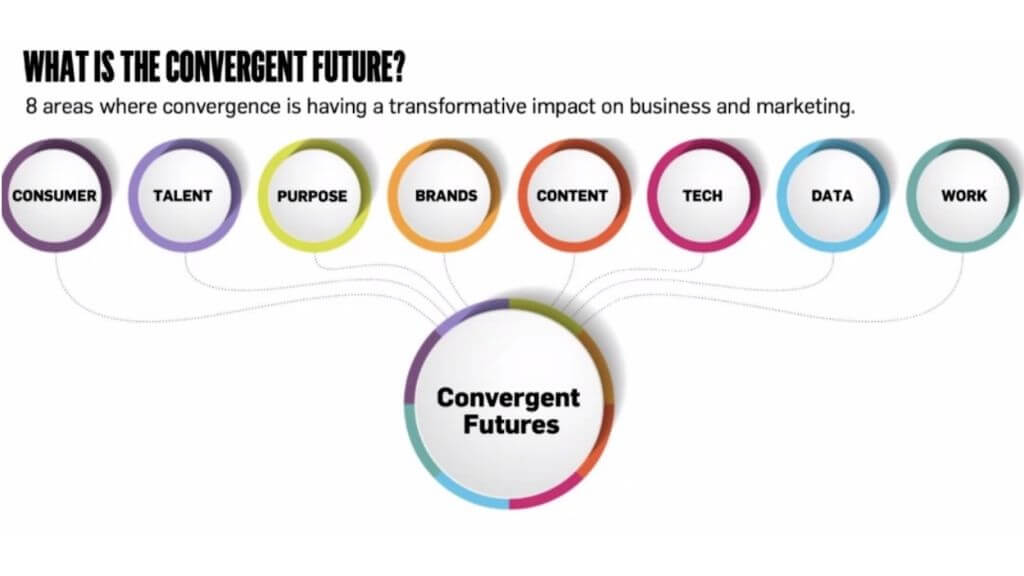 Adweek recently came out with its first-ever global theme for the year. 2022 will be known as the year of Convergent Futures. At the top level, convergence is an evolutionary process where two or more living organisms form one interconnected structure. In marketing, convergence is how we innovate, evolve, and grow. It's meant to assess the critical challenges we'll face not just in marketing but in business overall. 
How will you grow your business in a post-pandemic world? How will you reach new customers and meet your existing customers? How will you establish trust and loyalty among your most important stakeholders and lead with purpose? And, lastly, how will you keep pace with technological and digital transformations? That's where thinking about the future needs a convergent mindset. 
What's Convergence in Marketing? 
If the past few decades have taught us anything, it's that technology is a force for disruption and change (both good and bad). It's increasingly responsible for the fractured environment, especially in terms of marketing and how marketers operate. Driven by technology but enabled by a consumer-centric approach, convergence provides a way for us to build bridges, form alliances, collaborate, connect, and come together around a single common purpose: serving the customer's needs. 
As we explore new strategies, build new systems and refine the products and tools that drive consumer engagement, a convergent approach will make our efforts stronger, more resilient, and capable of adapting to change. 
Together with our partners, we can bring this idea to life over a year of engagement with some of our industry's most important and influential leaders. 
What is the Convergent Future? 
Here are eight areas where convergence will have a transformative impact on business and marketing. 
Consumers: Throughout the funnel, the consumer mindset evolves more specifically with how what, and where they make purchases. This is the time for marketers to rethink and reshape the customer experience paradigm. 
Talent: Marketing will converge across platforms and channels, so companies must seek open-minded and multidisciplined talent. And where you can't find a jack-of-all-trades, that's where technology can come in to help. 
Purpose: Brands are fusing corporate vision with a mission to address the most pressing societal and environmental challenges that align with core values. Think of Patagonia as a prime example. 
Brands: This means finding new ways to differentiate and grow through partnerships and collaborations. Or in other words, two heads are better than one. 
Content: Storytelling is now interwoven through a transmedia environment and across multiple new platforms and channels. This is the time to hook users with solutions to their problems. 
Technology: Emerging technologies advance creativity across new platforms and channels through AI, virtual reality, the blockchain, 5G, and others. For instance, using the best data management platform could benefit your first-party data strategies. 
Data: Advances in how we collect and analyze data have accelerated and created new ways to connect the dots and make sense of unstructured data. 
Work: The workplace of the future is now the present. Hybrid, remote, and virtual environments impact how we function as professionals and rethink how businesses thrive. 
All in all, we're going into 2022 with optimism. With stricter privacy concerns, the demise of the third-party cookie, and rethinking the consumer value exchange — we're at a time where we can reset and reinvigorate. Consumers are being more vocal about what they want, and advertisers and publishers create deeper relationships than ever before. If there's one theme that stands out from this past year, it's collaboration. Focusing on audience addressability will be the best way to create a better advertising experience, strengthen relationships, and meet goals. As we see various aspects of businesses converging, it's prime time to make the most of these opportunities to make your business thrive in 2022.