Two Heads Are Better Than One: TripleLift Acquires 1plusX
We just announced that TripleLift has acquired 1plusX – us! Together, we'll help make first-party data actionable for the programmatic world.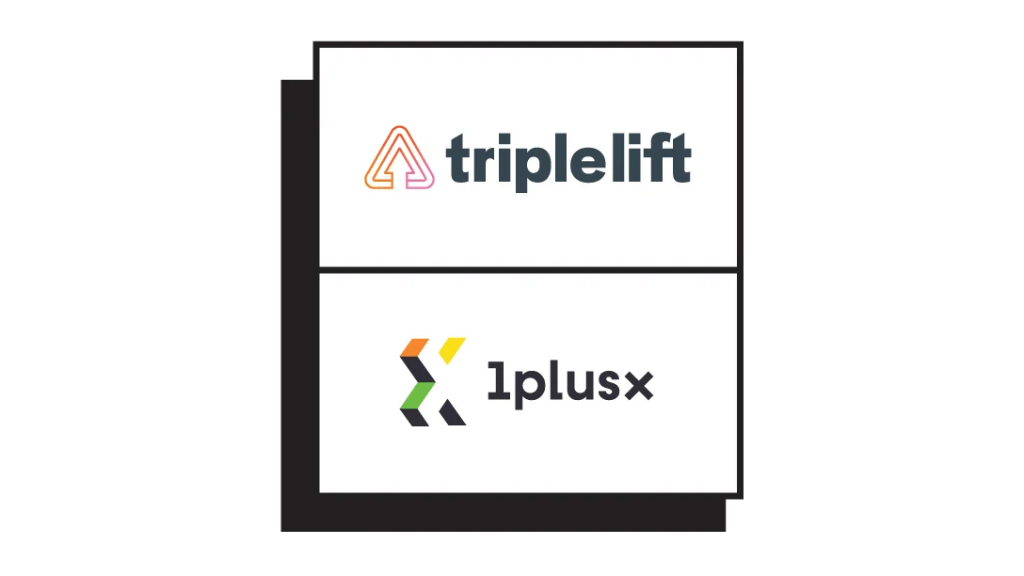 It's an exciting day for 1plusX and the future of digital advertising.
TripleLift Has Acquired 1plusX
We just announced that TripleLift has acquired 1plusX – us! TripleLift is the advertising technology company reinventing ad placement at the intersection of creative, media, and data. Its marketplace serves the world's leading brands, publishers, streaming companies, and demand-side platforms, executing over 1 trillion ad transactions every month.
Solving an Industry-Wide Challenge
We need to rethink, rebuild and reinvigorate digital advertising. Third-party cookies, cross-domain and cross-app targeting, and audience consent are all evolving to protect user information better. With 1plusX and TripleLift joining forces, our customers will take control of their data while unleashing its full potential. Meaning publishers can more effectively monetize their content, and advertisers can reach their audiences across mobile, web, and connected TV.
This is what we call our "Media+Data" approach. It'll combine the scale of TripleLift's publisher and advertiser platform with the power of 1plusX's publisher tools to enrich every ad with a new data currency.
Our joint roadmap will:
Support and grow 1plusX's growing publisher business

Build net-new

publisher

offerings allowing for customization based on their needs

Build net-new

advertiser

offerings with the ability to target through contextual, behavioral, first-party, lookalike modeling, and more
Ultimately, this transaction will provide more value to our supply-side and demand-side customers – publishers, brands, agencies, and DSPs. Without the need for third-party cookies.
Why TripleLift?
TripleLift is different from other programmatic companies. In 2012, its founders –  including their CEO, Eric Berry, and CSO, Ari Lewine – set out to build a different kind of exchange, an exchange with products and solutions rooted in giving consumers a better ad experience. Today, TripleLift works with 1,000+ publishers encompassing 90,000+ websites – giving 100,000+ advertisers access to inventory totaling over 1 trillion ad transactions per month.  
TripleLift has been building cookieless solutions for years – starting with native ads, which are inherently contextual formats, all the way through to their Exchange Traded Deals (ETDs) that drive performance without third-party cookies. Acquiring a first-party activation platform such as 1plusX was the next leap forward. When TripleLift started exploring their options, they were immediately taken with 1plusX's technology, team, and experience –  they immediately saw the potential in joining our teams. 
Our New Competitive Advantage
Finally: we wouldn't be entering into this agreement unless we believed there were exponential benefits for both companies. There's magic in us coming together at this time:
Merging of Technology & Scale

. When combined with our scale, 1plusX's technology will offer our publishers

and

advertisers new ways to solve industry challenges.

Activation of Our Compatible Publisher Lists

. 1plusX's remarkable growth story is ripe for further acceleration by our scaled Pub Development and PCS teams.

Partnering on Our Complementary Geographical Ambitions

. Our market-by-market strengths are perfectly suited to expanding each of our product sets.

Bringing New Demand Solutions to Market

. TripleLift's sales & support team – one of our main differentiators – makes us the best-positioned SSP to bring advertiser-focused, cookieless solutions to market.

Applying CTV Data Solutions to Our Business

. 1plusX's CTV solutions are unique in the category and compatible with our CTV business.
As third-party cookies go away, Supply Side Platforms like TripleLift have a critical role to play in filling the gap. 
Together, we're best positioned to help make first-party data actionable for the programmatic ecosystem. TripleLift and 1plusX are better together and poised to bring game-changing products to an industry that needs them.