Data Collaboration — the Start of Something Bigger
Data collaboration combines data from various sources to gain deeper insight. See how 1plusx gives new consumer intelligence by collaborating with other companies.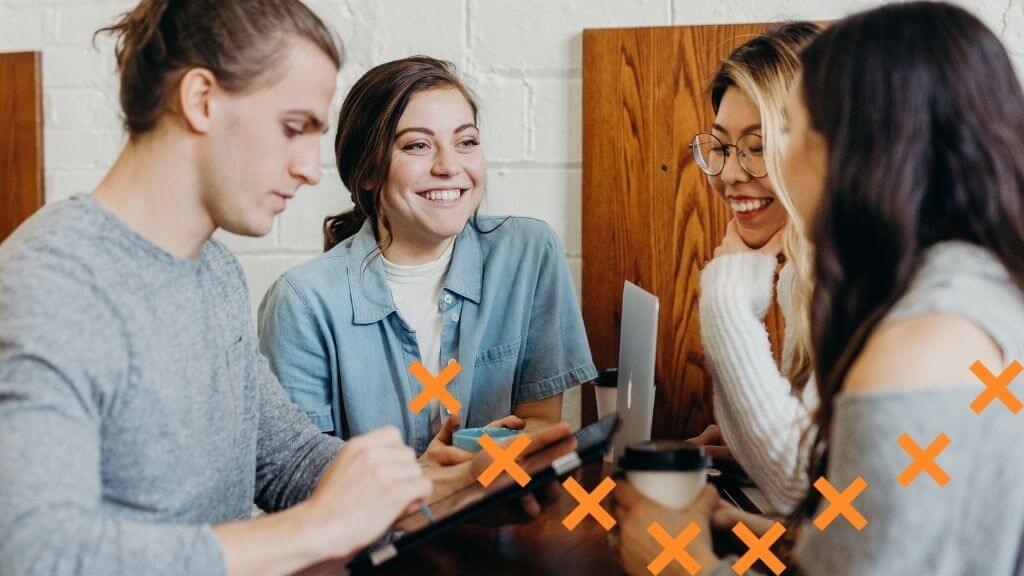 Data is the new oil. And companies that hold the most high-quality data are at a clear advantage. Now, imagine how much richer data can be when it's combined.
Data collaboration combines data from various internal and external sources to gain deeper data insights. Such as customers. These valuable insights can lay the foundations for new products and services, enable a richer customer experience and offer better business outcomes. By unlocking new consumer intelligence by collaborating with other companies, you'll get new information to create an even better customer experience. 
There's enormous potential in data collaboration. Trading and sharing data offers a competitive advantage and mutual benefit to all parties involved. It's not a new concept, but it's something that hasn't necessarily been used to its full potential. It's also possibly one of the best-kept data secrets, and we want to let you in on it. 
In the last two years alone, 90% of the world's data was created. So imagine the astronomical volume of data generated and available for consumption that could also give competitive leverage to businesses. In comparison, most commodities and traditional economic laws acknowledge that the greater the supply, the lower the value. For data, the opposite is true. However, data must be appropriately mined, combined, and aligned to have worth. That's where data management and collaboration solutions come into play. 
The Emergence of Data Collaboration
When we think of companies using data, we often think of digital titans like Amazon, Alphabet, and Meta. However, while these goliaths may have enough data to do it alone, other digital players need to get more creative to stay in the game. For example, the global advertising powerhouse WPP established the Data Alliance, combining with an external partner network to deliver data that helps clients meet their specific goals.
While it's not unconventional for a leading agency to leverage internal know-how, it is innovative to create a specialized operating division to cooperate with external partners and deliver data analytics. In the end, the model is simple: mine internal data resources, combine them with external data to build enhanced solutions and then align those outputs to meet clients' specific needs. 
1plusX Data Alliance Initiatives
At 1plusX, data alliances are not an entirely new phenomenon. Besides, for example, leading US broadcasters, the French Groupe Le Figaro or German Ad Alliance, 1plusX powers an expanding data collaboration in Japan of currently 28 publishers – and counting. "1plusX is essential for expanding the data advertising offerings of the Content Media Consortium. Audiences and contextual data across numerous websites as the consortium is unique and large in Japan, and is of great interest to advertisers," says Masanori Sugiura, Data Solution Director at BI. Our expertise allows us to offer different scenarios for publishers to benefit from the best predictive and machine learning capabilities in the AdTech market today within privacy-safe and secure environments for data collaboration. 
Separate Data Spaces
A data collaboration where publishers have separate data spaces will significantly increase reach and offer flexible on- and offboarding of alliance members. Other advantages include targeted audience scalability in the cookieless future by leveraging second-party data partnerships, as well as the ability to create curated audiences with a single audience ID across all publishers to serve their advertisers.
Shared Data Space
A data collaboration where publishers use a single, shared data space lets publishers train one set of machine learning models using their combined data to act as a single publisher. Additional advantages of a shared data space approach include the creation of lookalikes using the entire network reach of all collaborators combined, making it cost-effective when scaling with new alliance collaborators. Connecting profiles across multiple partners also allow the data alliance members to offer higher quality reach and meet niche audience requests.
1plusX Data Cleanroom
In response to an increased demand for cookieless, GDPR compliant data alliances between publishers and advertisers, 1plusX created its data cleanroom, 1plusX Connect. It enables new use cases with publishers that advertisers could previously only perform with walled gardens while keeping each collaborator's data safe and entirely separate in their dedicated Data Safe.
How Ringier Axel Springer Polska Works with 1plusX
With 1plusX, RASP increased its CPM by 10% and improved its click-through rates by 45%. As a result, RASP is more agile and flexible when creating new audiences, allowing better data collaboration with external partners. 
As Ringier Axel Springer Polska's Director of AD & Data Department, Michal Cyrek, explained, "Working with 1plusX has allowed RASP to combine different first-party socio-demographic datasets with improving our age and gender predictions by up to 20% over our previous solution. Furthermore, thanks to the flexibility of 1plusX's technology, we're able to continually review and refine the model on which our predictions are based. This allows us to improve the quality of our socio-demographic targeting even further." 
Deliver Real Growth Over Aspirations
Data providers have often thought of success as owning as many pieces of their industry's data and workflows as possible. While organic product development and outright acquisitions are important, new models for partnerships and distributions are crucial in the ever-evolving digital media ecosystem.
For publishers and their advertisers who want to scale and specialize their first-party data, it's more sustainable to think in a horizontal integration rather than vertical. New data developments and delivery models will help create better products, solutions, and user experiences through meaningful and secure alliances, exchanges, portals, and consortiums.
"Our cooperation to date and the constant development of their platform shows us over and over that 1plusX has a clear vision and a plan for helping publishers get the most of their data," says Michał Molenda, DMP Product Manager at Ringier Axel Springer Polska. "With their new solutions for first-party data and tracking capabilities, semantic targeting, and multiple data collaboration scenarios available, we feel confident about upcoming changes in the data and advertising universe. No matter what the future brings, I want us to be ready for it. I like working with 1plusX because they give me the tools necessary to use the full potential of our data."
If you're looking to make the most of your first-party data and an effective way to kick start your data collaboration strategy, then let's talk about how 1plusX can unlock the full potential of your data.