How Publisher Le Figaro Unlocked the Full Value of its First-Party Data
Digital publishers must respect users' growing concerns about data protection while balancing personalized experiences with monetization strategies.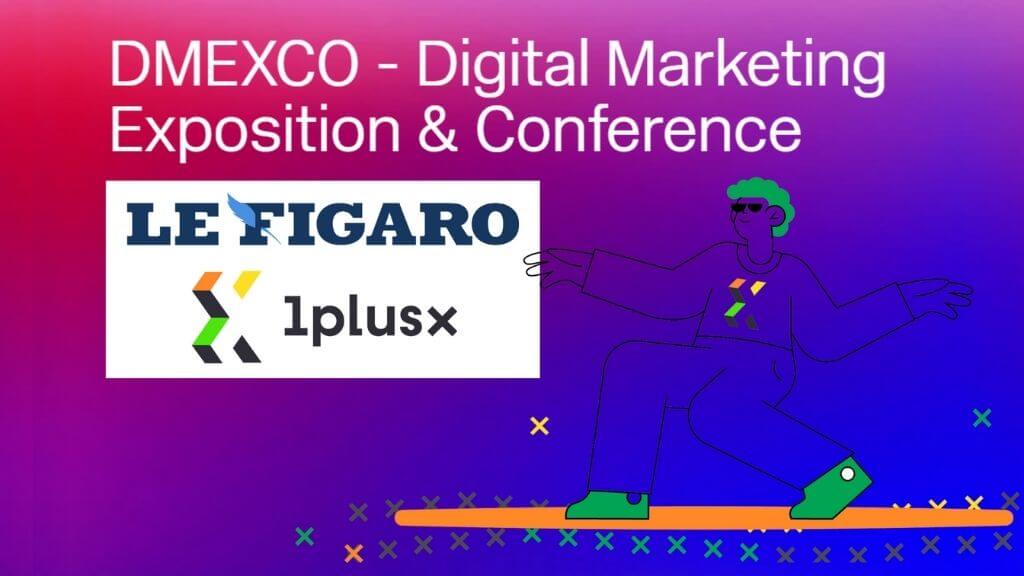 Digital publishers must respect users' growing concerns about data protection while balancing personalized experiences with monetization strategies.
Publisher Le Figaro strengthened their digital assets and transformed data from various touchpoints into flexible and powerful audience segments by switching to a first-party data strategy that focuses on mixing persistent IDs and contextual analysis.
Bastien Faletto, Director, Sales SEMEA at 1plusX, and Damien Mangin, Chief Data Officer at Le Figaro, met at DMEXCO 2021 to discuss the media group's data challenges and the strategies it implemented to unlock the full value of its digital assets.
Watch the masterclass replay here:

Data management platforms (DMPs) have, for a long time, been the foundation of marketers' data strategies. But the way DMPs are implemented today is very different from when they became popular a couple of decades ago.
"The concept and principles around DMPs are no longer the same," Le Figaro's Mangin explained. "When we started working with a DMP, everyone thought it was this magic tool that'd help us make the most of our data and the associated riches. But since then, the context has changed."
Le Figaro first implemented a DMP for targeted advertising purposes but, as the media landscape became more complex and privacy regulations came into force, the publisher had to rethink its targeting methods alongside its technology stack.
The Impact of Industry Changes
Following the advent of the GDPR and the announcement of Google stopping Chrome's support of third-party cookies, Le Figaro, like many other publishers, felt an immediate impact on its audience reach.
"Around 30% of cookies on the Le Figaro website were seen once and then 30 days later they would be deleted or get lost. If we solely relied on cookies, we'd lose 30% of our audience," Mangin revealed.
Reach was not the only challenge. The publisher was also concerned about future-proofing its business while maintaining an efficient and factual approach. With this in mind, Le Figaro looked for an adaptable data management strategy that could be applied across both cookie-enabled and cookie-free environments, and, at the same time, facilitate real-time targeting.
Privacy compliance was also top of mind for the publisher. So, finding a platform that could manage the dynamics of user consent was an important requirement in the decision-making.
According to 1plusX's Faletto: "The end of the third-party cookie and other tech platform restrictions represent a real challenge for digital marketers and media companies are well-positioned to lead the charge in finding new solutions." 
Good Things Come to Those Who Wait
Given the complexity and unfamiliarity of the situation, switching to a different solution wasn't something the publisher wanted to rush into. Instead, it followed a cautious approach to ensure the new platform was the right fit for its needs.
"We agreed to run a long proof of concept with Le Figaro. Of course, the circumstances with the pandemic made things more complicated, but generally, even six months is quite a long testing period, in our experience," Faletto said.
The longer POC allowed Le Figaro to validate every figure, every process, and use case while testing not only basic DMP functions but also complex processes like priority management and segmentation. "1plusX's analytical skills were invaluable to us during these complex phases. The team took time to analyze, understand and find the right solutions," Mangin explained.
While the focus was largely on KPIs, Le Figaro had a very strategic approach to choosing a new data management platform. As Mangin emphasized, "We wanted to take the opportunity of this project to establish the foundations of good data management starting with methods, involving the whole company and setting the right KPIs."
Thanks to the implementation of 1plusX's data strategy, Le Figaro generated an average reach lift of +38% across all verticals, with the technology vertical reaching a +63% lift when compared to the results from the previous DMP targeting the same audience.
Alongside the quantitative KPIs, Le Figaro benchmarked 1plusX's solution against qualitative KPIs. Key factors that set 1plusX apart were the focus on transparency and the simple and intuitive user interface. "With previous solutions, we didn't have these KPIs, which was a mistake on our part because they're very important to facilitate the job of our data teams," Mangin admitted.
Challenges and Opportunities in Data Strategies
Making the most of data is a publisher's priority, but there're some important factors that can impact the success of data initiatives:
Identifying the right key performance metrics without oversimplifying or overcomplicating them.
Using open tools: working with technology partners that can keep pace with the evolving media landscape and allow for interoperability between solutions.
Partnering with a data solution that can integrate with your own assets.
Making data initiatives a company-wide objective.
Remaining open to changes and opportunities in the industry.
With the right data strategy and the right tech stack, publishers like Le Figaro have the means to expand their data management use cases. Alongside targeted advertising and personalization, the new generation DMPs offer media companies holistic capabilities from predictive analytics and audience expansion to business intelligence and privacy compliance. 
In addition, the ability of technology to be nimble and interoperable will be key for publishers to be prepared for change and evolution.
"In the end, a publisher's biggest strength is the quality of its content. It's up to us to find the right tools to showcase it," Mangin concluded.
Interested in learning more about how 1plusX can take your data strategy to new heights? Get in touch!